Audiovisuals

Production Film Direction Narrative Dubbing
"All those moments will be lost in time, like tears in the rain" - Blade runner.
Without a solid production, direction, and scriptwriting, those moments would vanish, underscored by the importance of a dedicated team that brings our fantasies to life. Beatriz Olcina's production company, established in 2013, initially as a service-oriented firm, has successfully executed diverse advertising endeavors, film productions, customized projects, video tutorials, spanning real imagery, 2D animation, muppets, and my personal favorite, Stop Motion.
As a technically adept producer, I possess expertise in process management, team assembly, and project coordination for shoots. I've undertaken projects for clients and contributed my production skills to pre-existing teams at various stages of production. While production remains my forte, I've also helmed award-winning ventures under the same brand. Notably, my directorial achievements were recognized with the "Young Talent of Ibero-American Cinema" scholarship bestowed by Antonio Banderas in 2019. A reliable brand to carry out your projects with the security of receiving a realistic and tailored advice, which will help your project to become its best version.
Discover some of my work in the reel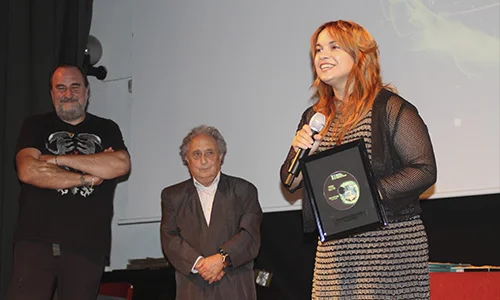 My relationship with cinema
film buff/serialphile to the core
I was born with a vivid imagination and a camera. In my childhood, I captured moments through photography and videos, then I made montages of the vacations where I narrated stories invented with the frames. During my teenage years, I diligently saved up for my first Reflex camera capable of shooting video. I embarked on initial projects alongside with a friends, who were already pursuing their university degrees, I would sneak into their classes and participate in their projects. When I finished my studies, with clear knowledge, magic was made. 
My preferred genres encompass fantasy, horror, and science fiction. As a director, I specialize in the realms of fantasy and fantasy horror. I'm entranced by films that can transform ordinary or distressing situations into something enchanting. The allure of exquisite costumes, captivating scenery, and skillful visual effects deeply resonates with me.
a little sample of my work
Don't leave it for tomorrow
Let's stay in touch

No forms required
If you have a project in mind, are looking to expand your team or just want to see how we could fit in, don't hesitate to contact me.
Don't leave it for tomorrow
If you have a project in mind, are looking to expand your team or just want to see how we could fit in, don't hesitate to contact me.